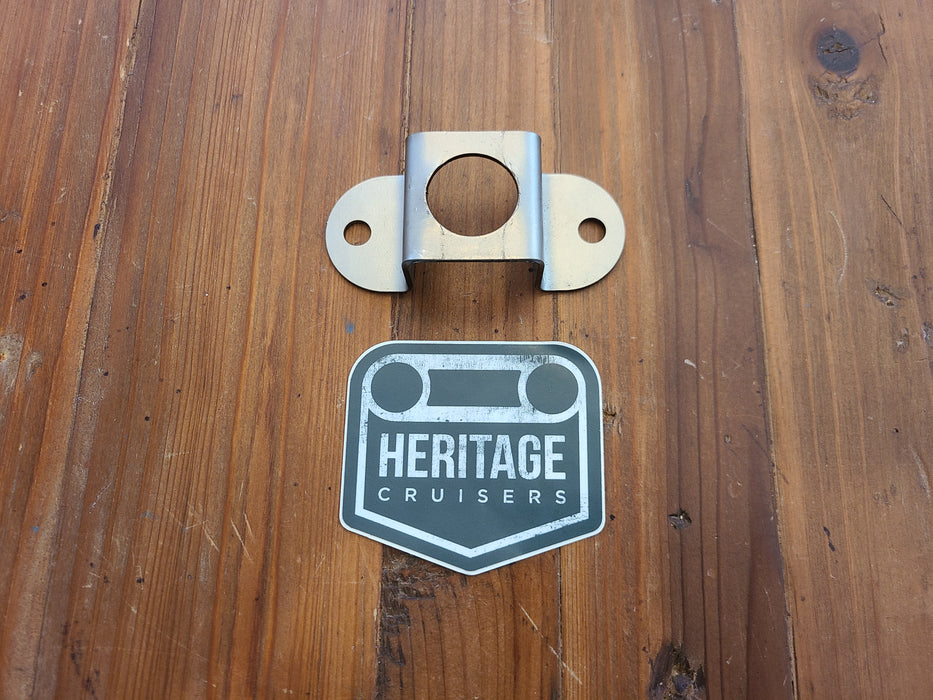 Lower Support Bracket for Aftermarket Soft Top Posts - 2 Bolt (Real Steel / SOR)
Model:  FJ40 / FJ43 / FJ45 / BJ40 / BJ41 / BJ42 / BJ44 / BJ46 / BJ43
Years:  Any where Real Steel or SOR bows are used for soft top applications.
Description:  This 2 bolt bracket is made specifically to fit aftermarket (Real Steel) bow kits that have the large 2 bolt foot at the base of the rear posts.  Hole to hole is 73mm for the Real Steel post bracket.  Bracket is located on the upper wheel well where the soft top post secures to the wheel well.  This is an OEM spec piece produced by Heritage Cruisers and made out of 12 gauge steel.  Finish includes 2 pre-drilled holes over bare metal.   
Compatibility:  These are compatible with Real Steel / SOR bow setups whereby you want to modify the 'feet' on the bows that bolt into the wheel well.  Why?  To give OEM look.  For OEM bows, please see 1S (link goes here) or 1Q (link goes here).